This is the complete Synnefo Administrator's Guide.
Block Storage Service (Archipelago)
Overview
Archipelago offers Copy-On-Write snapshotable volumes. Pithos images can be used to provision a volume with Copy-On-Write semantics (i.e. a clone). Snapshots offer a unique deduplicated image of a volume, that reflects the volume state during snapshot creation and are indistinguishable from a Pithos image.
Archipelago is used by Cyclades and Ganeti for fast provisioning of VMs based on CoW volumes. Moreover, it enables live migration of thinly-provisioned VMs with no physically shared storage.
Archipelago Architecture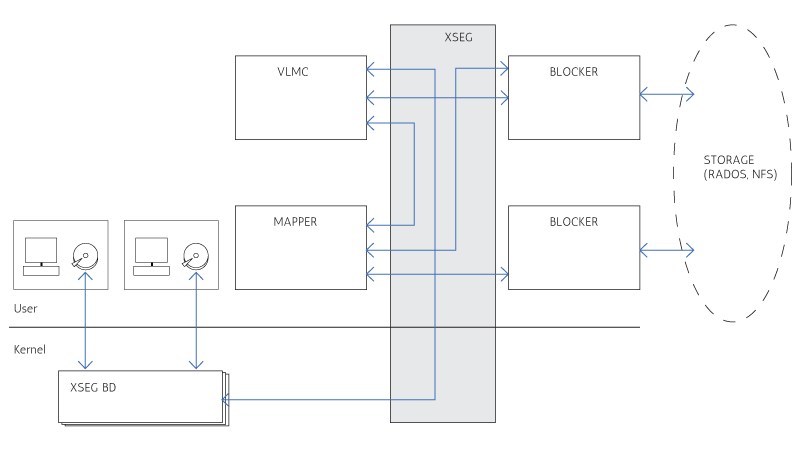 Overview of Synnefo + Archipelago + RADOS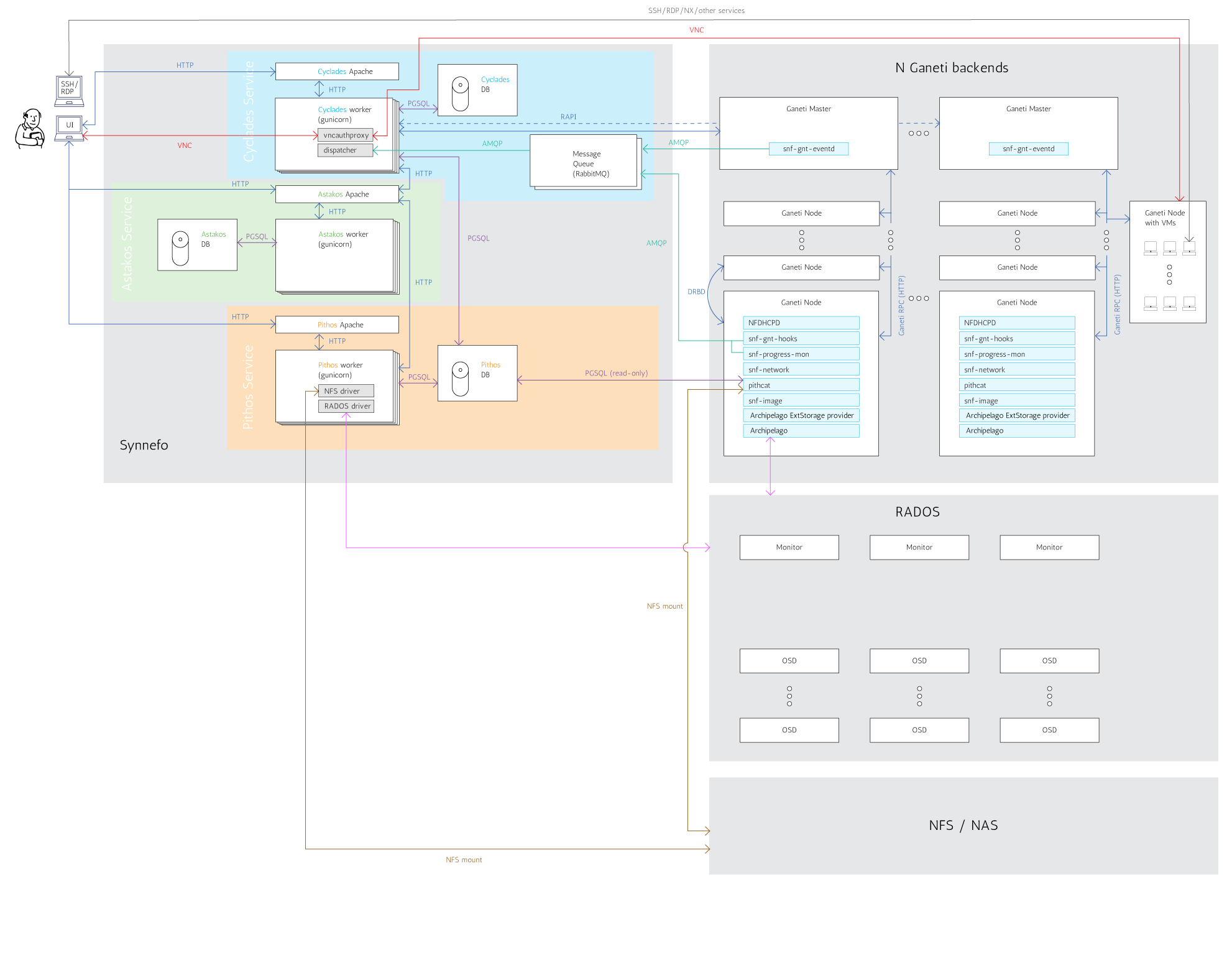 Prereqs
The administrator must initialize the storage backend where archipelago volume blocks will reside.
In case of a files backend, the administrator must create two directories. One for the archipelago data blocks and one for the archipelago map blocks. These should probably be over shared storage to enable sharing archipelago volumes between multiple nodes. He or she, must also be able to supply a directory where the pithos data and map blocks reside.
In case of a RADOS backend, the administrator must create two rados pools, one for data blocks, and one for the map blocks. These pools, must be the same pools used in pithos, in order to enable volume creation based on pithos images.
Installation
Archipelago consists of
libxseg0: libxseg used to communicate over shared memory segments
python-xseg: python bindings for libxseg
archipelago-kernel-dkms: contains archipelago kernel modules to provide block devices to be used as vm disks
python-archipelago: archipelago python module. Includes archipelago and vlmc functionality.
archipelago: user space tools and peers for the archipelago management and volume composition
archipelago-ganeti: ganeti ext storage scripts, that enable ganeti to provision VMs over archipelago
Performing
$ apt-get install archipelago-ganeti

should fetch all the required packages and get you up 'n going with archipelago
Bare in mind, that custom librados is required, which is provided in the apt repo of GRNet.
For now, librados is a dependency of archipelago, even if you do not intend to use archipelago over RADOS.
Configuration
Archipelago should work out of the box with a RADOS backend, but basic configuration can be done in /etc/default/archipelago .
If you wish to change the storage backend to files, set
and provide the appropriate settings for files storage backend in the conf file.
These are:
FILED_IMAGES: directory for archipelago data blocks.
FILED_MAPS: directory for archipelago map blocks.
PITHOS: directory of pithos data blocks.
PITHOSMAPS: directory of pithos map blocks.
The settings for RADOS storage backend are:
RADOS_POOL_MAPS: The pool where archipelago and pithos map blocks reside.
RADOS_POOL_BLOCKS: The pool where archipelago and pithos data blocks reside.
Examples can be found in the conf file.
Be aware that archipelago infrastructure doesn't provide default values for this settings. If they are not set in the conf file, archipelago will not be able to function.
Archipelago also provides VERBOSITY config options to control the output generated by the userspace peers.
The available options are:
VERBOSITY_BLOCKERB
VERBOSITY_BLOCKERM
VERBOSITY_MAPPER
VERBOSITY_VLMC
and the available values are:
0 : Error only logging.
1 : Warning logging.
2 : Info logging.
3 : Debug logging. WARNING: This options produces tons of output, but the logrotate daemon should take care of it.
Working with Archipelago
archipelago provides basic functionality for archipelago.
Usage:
$ archipelago [-u] command

Currently it supports the following commands:
start [peer] Starts archipelago or the specified peer.
stop [peer] Stops archipelago or the specified peer.
restart [peer] Restarts archipelago or the specified peer.
status Show the status of archipelago.
Available peers: blockerm, blockerb, mapperd, vlmcd.
start, stop, restart can be combined with the -u / --user option to affect only the userspace peers supporting archipelago.
Archipelago advanced operations
The vlmc tool provides a way to interact with archipelago volumes
vlmc map <volumename>: maps the volume to a xsegbd device.

vlmc unmap </dev/xsegbd[1-..]>: unmaps the specified device from the system.

vlmc create <volumename> --snap <snapname> --size <size>: creates a new volume named <volumename> from snapshot name <snapname> with size <size>. The --snap and --size are optional, but at least one of them is mandatory. e.g:

vlmc create <volumename> --snap <snapname> creates a volume named volumename from snapshot snapname. The size of the volume is the same as the size of the snapshot.

vlmc create <volumename> --size <size> creates an empty volume of size <size> named <volumename>.

vlmc remove <volumename>: removes the volume and all the related archipelago blocks from storage.

vlmc list: provides a list of archipelago volumes. Currently only works with RADOS storage backend.

vlmc info <volumename>: shows volume information. Currently returns only volume size.

vlmc open <volumename>: opens an archipelago volume. That is, taking all the necessary locks and also make the rest of the infrastructure aware of the operation.

This operation succeeds if the volume is alread opened.

vlmc close <volumename>: closes an archipelago volume. That is, performing all the necessary functions in the insfrastrure to successfully release the volume. Also releases all the acquired locks.

vlmc close should be performed after a vlmc open operation.

vlmc lock <volumename>: locks a volume. This step allow the administrator to lock an archipelago volume, independently from the rest of the infrastrure.

vlmc unlock [-f] <volumename>: unlocks a volume. This allow the administrator to unlock a volume, independently from the rest of the infrastructure. The unlock option can be performed only by the blocker that acquired the lock in the first place. To unlock a volume from another blocker, -f option must be used to break the lock.
The "kamaki" API client
To upload, register or modify an image you will need the kamaki tool. Before proceeding make sure that it is configured properly. Verify that image_url, storage_url, and token are set as needed:
To chage a setting use kamaki config set:
$ kamaki config set image_url https://cyclades.example.com/plankton
$ kamaki config set storage_url https://pithos.example.com/v1
$ kamaki config set token ...

Upload Image
As a shortcut, you can configure a default account and container that will be used by the kamaki store commands:
$ kamaki config set storage_account images@example.com
$ kamaki config set storage_container images

If the container does not exist, you will have to create it before uploading any images:
$ kamaki store create images

You are now ready to upload an image. You can upload it with a Pithos+ client, or use kamaki directly:
$ kamaki store upload ubuntu.iso

You can use any Pithos+ client to verify that the image was uploaded correctly. The full Pithos URL for the previous example will be pithos://images@example.com/images/ubuntu.iso.
Register Image
To register an image you will need to use the full Pithos+ URL. To register as a public image the one from the previous example use:
$ kamaki glance register Ubuntu pithos://images@example.com/images/ubuntu.iso --public

The --public flag is important, if missing the registered image will not be listed by kamaki glance list.
Use kamaki glance register with no arguments to see a list of available options. A more complete example would be the following:
$ kamaki glance register Ubuntu pithos://images@example.com/images/ubuntu.iso \
         --public --disk-format diskdump --property kernel=3.1.2

To verify that the image was registered successfully use:
Miscellaneous
RabbitMQ Broker
Queue nodes run the RabbitMQ sofware, which provides AMQP functionality. To guarantee high-availability, more than one Queue nodes should be deployed, each of them belonging to the same RabbitMQ cluster. Synnefo uses the RabbitMQ active/active High Available Queues which are mirrored between two nodes within a RabbitMQ cluster.
The RabbitMQ nodes that form the cluster, are declared to Synnefo through the AMQP_HOSTS setting. Each time a Synnefo component needs to connect to RabbitMQ, one of these nodes is chosen in a random way. The client that Synnefo uses to connect to RabbitMQ, handles connection failures transparently and tries to reconnect to a different node. As long as one of these nodes are up and running, functionality of Synnefo should not be downgraded by the RabbitMQ node failures.
All the queues that are being used are declared as durable, meaning that messages are persistently stored to RabbitMQ, until they get successfully processed by a client.
Currently, RabbitMQ is used by the following components:
snf-ganeti-eventd, snf-ganeti-hook and snf-progress-monitor: These components send messages concerning the status and progress of jobs in the Ganeti backend.
snf-dispatcher: This daemon, consumes the messages that are sent from the above components, and updates the Cyclades DB accordingly.
Installation
Please check the RabbitMQ documentation which covers extensively the installation of RabbitMQ server and the setup of a RabbitMQ cluster. Also, check out the web management plugin that can be useful for managing and monitoring RabbitMQ.
For a basic installation of RabbitMQ on two nodes (node1 and node2) you can do the following:
On both nodes, install rabbitmq-server and create a Synnefo user:
$ apt-get install rabbitmq-server
$ rabbitmqctl add_user synnefo "example_pass"
$ rabbitmqctl set_permissions synnefo  ".*" ".*" ".*"

Also guarantee that both nodes share the same cookie, by running:
$ scp node1:/var/lib/rabbitmq/.erlang.cookie node2:/var/lib/rabbitmq/.erlang.cookie

and restart the nodes:
$ /etc/init.d/rabbitmq-server restart

To setup the RabbitMQ cluster run:
root@node2: rabbitmqctl stop_app
root@node2: rabbitmqctl reset
root@node2: rabbitmqctl cluster rabbit@node1 rabbit@node2
root@node2: rabbitmqctl start_app

You can verify that the cluster is set up correctly by running:
root@node2: rabbitmqctl cluster_status

Logging
Logging in Synnefo is using Python's logging module. The module is configured using dictionary configuration, whose format is described here:
http://docs.python.org/release/2.7.1/library/logging.html#logging-config-dictschema
Note that this is a feature of Python 2.7 that we have backported for use in Python 2.6.
The logging configuration dictionary is defined in /etc/synnefo/10-snf-webproject-logging.conf
The administrator can have finer logging control by modifying the LOGGING_SETUP dictionary, and defining subloggers with different handlers and log levels. e.g. To enable debug messages only for the API set the level of 'synnefo.api' to DEBUG
By default, the Django webapp and snf-manage logs to syslog, while snf-dispatcher logs to /var/log/synnefo/dispatcher.log.